GreatFire June: Bloomberg Blocked As Well As Hundreds Of Additional Keywords On Weibo
Submitted by

martin

on Thu, Jul 12, 2012
The big question for people following online censorship in China is a simple: is censorship increasing or decreasing in China? Many cite the growth of microblogs such as Sina Weibo, as well as the total number of Internet users in China, and argue that while censorship is pervasive, overall, things are opening up. However, two developments during the month of June suggest otherwise. The first was that Bloomberg was blocked, the first time in years that a major, English-language news website was blocked. The second was that out of the 15,000+ keywords on Sina Weibo, Google and Wikipedia that we are monitoring, an additional 231 were blocked while only 24 were unblocked. It would seem that the grip on censorship is tightening.
In a curious incident, Henan News published a story mentioning the Great Firewall by name both in Chinese and English. The story was quickly deleted, but thanks to Google Cache you can still view it here.
Bloomberg Blocked - More To Come?

http://www.bloomberg.com was blocked on June 29. As a major, English-language news website, this means that Bloomberg has been singled out by the Chinese authorities. This followed a lengthy report by Bloomberg on the family wealth of Xi Jinping, the man presumed to replace Hu Jintao as Chairman of the Communist Party later this year. The obvious reason for blocking Bloomberg would be to prevent Chinese netizens from reading the story in the first place. This is not all that effective however, since blocking it only brought more attention to the story, and much of the content of the story could soon be found on other foreign media websites which themselves were not blocked. The authorities could have blocked access to the story without blocking Bloomberg altogether, as they did with a story in The Economist about the Bloomberg story on Xi Jinping. Another interpretation is that the authorities wanted to send a warning to foreign journalists in China: don't go too far, or we'll block you altogether, because bloomberg China http://www.bloomberg.cn/ which is a technical site and contains no reports of Xi Jingping is blocked even though it acquired an ICP license from Chinese authority , That would also be supported by the expulsion of a foreign journalist in May, the first such action since 1998. We could likely write a separate post on how foreign news organizations agree to self-censor their content in exchange for market access in China but for the purposes of this story we will assume that the authorities block the content that they want to block.
At almost the same time, the New York Times launched a Chinese edition of it's website, which has so far not been blocked. The fact that most other Chinese versions of foreign media websites are blocked suggest that this is just a question of time. Also, as we reported on July 3, the Weibo accounts of the New York Times were quickly closed on both Sina and Tencent.
Here's an overview of major news websites and which ones are currently blocked. We'll follow their progress with great interest.
Google (Quietly) Continues To Bring Transparency To Censorship

As we reported last month, Google launched a new feature which notifies users trying to search for certain keywords that would otherwise be blocked by the Great Firewall. The new function was quickly disabled by the Chinese authorities by blocking access to the javascript file in which it was defined. Since then, Google has cleverly responded by embedding all the required code and data of what's blocked in the html file. This makes it difficult for the Great Firewall to disable this transparency function without blocking Google altogether. So far, they've done nothing and as this is written the feature is working in China.
If Google wants to, they could take this much further. If a user clicks on a URL known to be blocked, for example, they could inform the user and even offer suggestions of ways around the censorship. We'll keep following the Google vs Great Firewall battle closely.
Unblocked Foreign Websites Keep Getting Faster
As can be seen in the chart below, foreign websites that are not blocked continue the trend of getting faster in China. The data is based on average download speed of Alexa Top 500 websites not hosted in China, per month.
Loading chart..
Keywords Blocked And Unblocked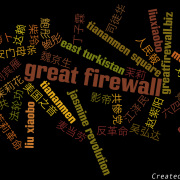 Below is a list of 231 unique keywords that were blocked in June. Only keywords that we know were not blocked before June are included. Also, there's a list of 24 keywords that were previously blocked, and were unblocked during June. As always, if you think anything is missing, please add it to our database for testing using the search bar on the top of this page. All URLs and keywords in our database are continously tested so that we can detect changes.
Other Notable Changes
Do you remember http://myspace.com? At least the people in charge of the Great Firewall seem to - they blocked it last month. On the other hand, http://www.rapidshare.com was unblocked at least as of June 1. http://www.bitly.com was blocked at least as of June 24 but the shorter domain http://bit.ly which is used for short links is still not blocked.
More Blog Posts
Subscribe to our mailing list
Fri, Mar 18, 2022
Mon, Aug 03, 2020
Fri, Jul 24, 2020
Mon, Jun 10, 2019
Thu, Jun 06, 2019