Report Shines Spotlight on Apple's Censorship Practices in China
Submitted by

charlie

on Thu, Jun 06, 2019
The newest Ranking Digital Rights Corporate Accountability Index makes recommendations on what companies and governments need to do in order to improve the protection of internet users' human rights around the world. Ranking Digital Rights (RDR) works to promote freedom of expression and privacy on the internet by creating global standards and incentives for companies to respect and protect users' rights.
In their 2019 Accountability Index, RDR looks at the policies of 24 of the world's most important internet companies in respect to freedom of expression and privacy and highlights the companies that have made improvements and those companies that need to do more. RDR notes that:
Insufficient transparency makes it easier for private parties, governments, and companies themselves to abuse their power over online speech and avoid accountability.
In particular, the report highlights how Apple has abused their power over online speech, and notes instances of this in China. According to the report, Apple has not disclosed data around the content that it removes from its App Store when faced with requests from the government authorities.
While [Apple] disclosed data about government requests to restrict accounts, it disclosed no data about content removal requests, such as requests to remove apps from its App Store. Apple revealed little about policies and practices affecting freedom of expression, scoring below all other U.S. companies in this category.
The report makes intelligent and sensible recommendations for governments. However, the recommendations also highlight how difficult it is to have these discussions with governments like China's.
RDR recommends that governments require corporate transparency and to be transparent themselves. The Chinese authorities take the opposite approach - they do not want transparency on these issues because it highlights information that they do not want the public to know about. The authorities do not want companies to be transparent and they likely directly instruct Apple not to publish lists of what content they are removing.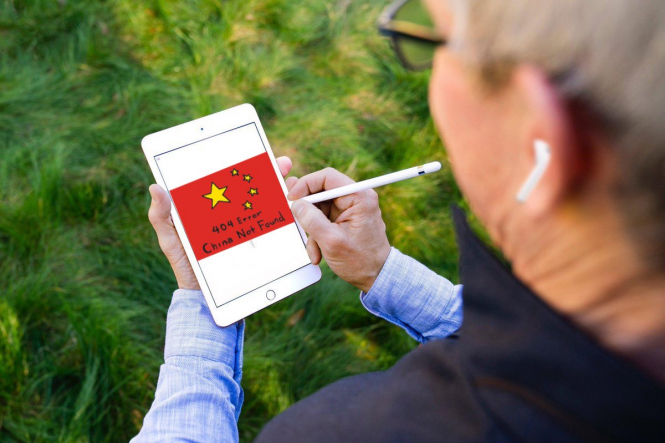 Apple might truly believe that they must follow the letter of the law in China. Or they might be willing to share information about what is being censored in the App Store but find that their hands are tied by the Chinese authorities. Apple might also conceivably be using this situation as a cover for their crackdown on freedom of expression in China. Regardless of Apple's true motivations, transparency can and has been forced upon them.
In January, 2019, GreatFire released applecensorship.com. This project monitors Apple censorship of the App Store in every market where the company operates. Tests of the availability of apps are conducted by visitors to the website. As of today, user-generated tests have identified over 1100 apps that are unavailable in the China app store. Apps which have been censored in China include those that deal with religion, news, privacy, and circumvention. Through censoring apps that help to evade censorship restrictions, Apple has truly left Chinese with no solution to freely access information. Apple's China consumers might think that they are buying a first-class device - what is certain is that the company treats Chinese as second-class information citizens.
RDR recommends that Apple be transparent about restrictions to freedom of expression and to publish data about the actions that the company takes to remove content as a result of government demands. We invite Apple to review the data that we have made publicly available on applecensorship.com and to highlight instances where apps have been removed based on instructions from the Chinese authorities.
More Blog Posts
Subscribe to our mailing list
Fri, Mar 18, 2022
Mon, Aug 03, 2020
Fri, Jul 24, 2020
Mon, Jun 10, 2019
Thu, Nov 30, 2017