8 Absurd Quotes On Censorship In China
Submitted by

martin

on Sat, Dec 29, 2012
"Intended to better protect Internet users' privacy"
"You can get all kinds of opinions. It's much open"
"Strengthening Internet regulation is the will of the people"
"While other countries have legislated to regulate the Internet, China has still been thinking about it"
"Foreign-run VPNs illegal in China"
"Censors Relax Grasp on Internet"
"Thank god my husband had to shake his porn habit after he got here"
"China: The Home to Facebook and Twitter?"
The world is a complex place, and reporting on it is a difficult task. Luckily journalists are good at getting catchy quotes and creating memorable headlines. These are supposed to give you a summary of the news and a brief idea of how the issue is developing. Sometimes they can be misleading, though. In an attempt to combat misconceptions of online censorship in China, we have selected 8 recent such quotes. These have been reported by mainstream media in China and/or outside China.
If your impression of the Internet in China is based on these claims, you may think that online censorship in China is intended to protect regular users, that it doesn't threaten freedom of speech, that it's wanted by the people, that it's moderate, that circumventing it is illegal, that it's being relaxed, that it exists to block pornography and that nonetheless more than a hundred million Chinese Internet users can access supposedly blocked websites.
If you don't believe these claims, however, a very different picture emerges. We hope that this article can help stimulate a discussion over censorship more respectful of facts, definitions and data. Given yesterday's announcement of New Internet Management Rules such a discussion is more urgent than ever.
(1) "Intended to better protect Internet users' privacy"
Quoted from: Xinhua (Dec 24)
http://news.xinhuanet.com/english/china/2012-12/24/c_132059941.htm
On Christmas Eve, Xinhua announced that China is working on new regulation "intended to better protect Internet users' privacy". So far, so good. It quickly becomes clear though that they intend to achieve this goal by "requiring Internet users to identify themselves to service providers".
Wait a minute. Privacy by required identification?
You are of course entitled to your own opinion. But are you entitled to your own definitions of words? According to Wikipedia, "privacy is the ability of an individual or group to seclude themselves or information about themselves and thereby reveal themselves selectively". Requiring Internet users to identify themselves is surely the opposite of privacy. Claiming to protect privacy by requiring to identify is as absurd as the old "Freedom Is Slavery" concept from the book 1984.
Also, most user activity is already traceable on the Chinese Internet. Because you already do have to provide your name to your ISP, the authorities can in most cases identify the user behind a given post. All they need to do is to call the website operator who will give them the IP address of the user, after which they will call the ISP who will give them a name. If the IP address is used by one of the many Internet cafes, that's not much safer. Internet cafes ask for identification when you walk in and keep records of their clients. All it takes is one additional phone call.
(2) "You can get all kinds of opinions. It's much open"
Quoted from: Liu Xiao Ming, China's ambassador to the UK (Dec 21)
http://www.scmp.com/news/china/article/1110810/chinas-internet-open-uk-a....
In an interview with the BBC, China's ambassador to the UK said that "if you are in China and can get connected to the internet I think you can get all kinds of opinions. It's much open. A lot of things can be debated including politics and economic and cultural affairs." The ambassador didn't specify exactly how you could find all these opinions. But let's assume he's right and run some tests. Since he did include the topic of politics, let's try to find "all kinds of opinions" on the Communist Party of China (中国共产党).
First let's try Google. We browse to www.google.com and are redirected to www.google.com.hk, the Hong Kong version used by Google to serve users from all of China. We enter "中国共产党" and hit search. Unfortunately, the Great Firewall decides to reset our connection. We get a technical error message and no search results at all. We hit the back button and try again - same result. So far, no opinions of any kind.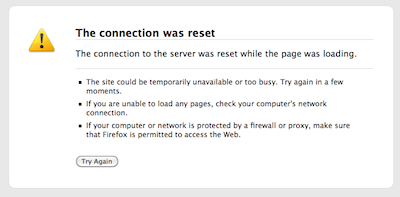 Most Chinese Internet users don't use Google, of course. Baidu is the leading search engine. So let's head over to www.baidu.com in our quest for opinions. Again, we enter 中国共产党 and this time we get a full page of results. The first page is mostly made up of links to People's Daily, Xinhua and China.com.cn, all of which are controlled by the party. But there's also a link to the Chinese Wikipedia entry. Looking promising! We click it and the page starts loading. After a second, though, we get the same "connection reset" message that we got when we tried Google.
Apart from information directly controlled by the government and Wikipedia, which is blocked, there's a third source among our list of results though: Baidu Baike. This is an online encyclopedia similar to Wikipedia. Finally, a collaborative approach to what the ruling party is, made by and available to all Chinese people - or is it? To the top right, we spot a message saying that the entry is locked (词条已锁定). So, no collaboration, just another top-down channel telling people what the party is with no ability to object or comment.

Search engines are irrelevant in today's world of social media, you may retort. Twitter and Facebook may be blocked in China, but there are of course plenty of local versions offering Chinese Internet users easy ways to freely communicate with each other, bypassing central decision-making. Or do they? We head over to Sina Weibo, the biggest microblog in China, and give our search for 中国共产党 a last go. Unfortunately, we get no results at all. Instead, we're informed that according to relevant laws, legislation and policy, results for 中国共产党 could not be shown ("根据相关法律法规和政策,"中国共产党"搜索结果未予显示").
Of course, this does not mean that there is not a range of opinions on the ruling party on the Chinese Internet. If you search for the same term on FreeWeibo (which allows searches for any keywords and includes posts deleted by Sina, but is blocked in China), you'll find a lot of content. If you know who to follow on Weibo, you can create your own range of opinions and catch most of them before they're deleted. You can use euphemisms for blocked keywords to get around the censorship. You can use circumvention tools to get around the Great Firewall and access all content on Google, Wikipedia etc. There are always ways around censorship. The point is that it's not available to most people. And it's not enough to connect to the Internet, as stated by Mr Liu Xiao Ming.
(3) "Strengthening Internet regulation is the will of the people"
Quoted from: Global Times (Dec 21)
http://opinion.huanqiu.com/editorial/2012-12/3402855.html.
In what seems to be a contradiction of the previous claim that you can get all kinds of opinions in China, when it comes to Internet regulation the people has one will (if you ask Global Times). They claim that it's clear that Chinese people want more and stronger regulation of the Internet.
Global Times says nothing about the many Chinese Internet users who want less regulation and more freedom online. Conveniently, Sina Weibo frequently deletes such messages too.
But before strengthening online regulation, how about enforcing existing ones? Here's a good place to start, from the Constitution of The People's Republic of China:
Article 35. Citizens of the People's Republic of China enjoy freedom of speech, of the press, of assembly, of association, of procession and of demonstration.
If citizens of China have freedom of speech, then why are large volumes of posts on Sina Weibo being deleted daily? If citizens of China have freedom of the press, then why are the websites of The New York Times and Bloomberg blocked?
(4) "While other countries have legislated to regulate the Internet, China has still been thinking about it"
Quoted from: Global Times (Dec 21)
http://www.globaltimes.cn/content/751471.shtml.
The Global Times goes on to say that "China's legislation on the Internet and actual management over it have been moderate so far". This leaves the reader somewhat puzzled as to whether there is currently no legislation at all (since China has been thinking about it) or some limited legislation. Assuming the latter, let's remember what this moderate legislation entails:
Google Drive, Picasa, Google Plus, Google Sites, Facebook, YouTube, Yahoo Hong Kong, Yahoo Taiwan, Baidu Zhidao Taiwan, Twitter, Blogspot, Wordpress, Blogger, IMDB, hundreds of Wikipedia articles, DailyMotion, Netflix, AOL Video, New York Times, Dropbox, Nicovideo, Vimeo, Slideshare and thousands more websites are all blocked.
All activity on Chinese websites is tracked and just by asking the ISP or the Internet cafe most users can be identified and arrested for posting something the authorities didn't like, such as this joke or this call to start a new party.
All Chinese websites are required to self-censor. For example, Sina Weibo, the biggest microblog, blocks searches for thousands of keywords and deletes massive amounts of posts by users.
Assuming that this is the moderate approach, what would more radical regulation entail?
(5) "Foreign-run VPNs illegal in China"
Quoted from: Fang Binxing, "designer of the GFW" (Dec 14)
http://www.globaltimes.cn/content/750158.shtml.
"As far as I know, companies running a VPN business in China must register with the Ministry of Industry and Information Technology. I haven't heard that any foreign companies have registered," Fang said.
VPN businesses are by their nature not registered in China. They are online businesses offering services to any users connected to the Internet. Claiming that they would have to register in China is like claiming that any website with users in China needs a Chinese license.
(6) "Censors Relax Grasp on Internet"
Quoted from: Reuters (Dec 10)
http://www.reuters.com/article/2012/12/10/us-china-politics-idUSBRE8B90A...
As Xi Jinping was making his much heralded trip to Shenzhen, Reuters decided to report on "an apparent easing of Internet search restrictions that the party has energetically used to suppress information that could threaten one-party rule". As evidence for this claim, they referred to the fact that you could now search for the names of certain top leaders, including Xi Jinping and Li Keqiang, on Sina Weibo.
Sina Weibo did indeed change their management of these keywords. However, going from the previous state of admitting censorship to allowing the search but showing only a limited set of prescreened results is not necessarily a step towards less censorship. If Sina admits to censoring results, users can find ways around the censorship. If Sina pretends to not censor results, users may never know and may think that what they see is a realistic, uncensored representation of user opinions.
All the while, Sina continues to delete unwanted comments on leaders. The authorities are stepping up interference with VPNs, used to circumvent the Great Firewall. Mainstream English-language media (Bloomberg, New York Times) has been blocked for the first time in years. The authorities are strongly pushing an agenda to further step up regulation of the Internet. None of this suggests that they are "relaxing their grasp on the Internet".
(7) "Thank god my husband had to shake his porn habit after he got here"
Quoted from: Nellie Yellow, interviewed by Global Times (Oct 14)
http://www.globaltimes.cn/content/738210.shtml
The idea that censorship in China exists to protect people from foreign, sinful pornography is as widespread as it is false. While thousands of keywords are blocked on Google, "porn" is not one of them. And going through the search results on the first page, only three websites are blocked by the Great Firewall, while five others are perfectly accessible.
Sina Weibo does seem to take censoring pornography much more seriously. They block hundreds of sexual keywords, and most likely use a filter to automatically detect and remove pornographic images. The central authorities don't object, but their management of the Great Firewall also suggests that they don't think it should be prioritized. Perhaps they even get instructions from certain officials, who enjoy pornography, to let many such websites through.
(8) "China: The Home to Facebook and Twitter?"
Quoted from: GlobalWebIndex (Sep 27)
http://globalwebindex.net/thinking/china-the-home-to-facebook-and-twitter/
Research from GlobalWebIndex and eMarketer made headlines in September when they claimed that Google Plus, Facebook and Twitter, which are all blocked in China, nonetheless had achieved 107 million, 64 million and 35 million active users, respectively, in China. We posted eight questions to them, which they never responded to and TheNextWeb soon joined us in debunking their flawed figures.
Did we miss some good quotes? Do you disagree with our views? Your comments are much appreciated!
More Blog Posts
Subscribe to our mailing list
Fri, Mar 18, 2022
Mon, Aug 03, 2020
Fri, Jul 24, 2020
Mon, Jun 10, 2019
Thu, Jun 06, 2019